My KLE project has passed "proof of concept" and "user acceptance" and is now a fully functioning motosickle again. All those hours of gassing myself with a space heater in my garage so that I could continue the build have come to fruition.
Our club rode from Edinburgh to York to attend "Into the Valley" rally, 200 miles each way and the bike was a hoot to ride. Nothing significant went wrong, I didn't fall off, and got home without the need for a breakdown truck. i visited family near York and got a proper Sunday lunch too, smashing.
And it didn't rain, all weekend. And I got laid at the rally (which doesn't happen often). All in all it was a top weekend and I am a particularly happy chap.
As seems to be the way these days, the bike has a name "The Scream" which means I now have to keep the tank logo. And, I have copied what all the cool kids do and uploaded a load of build videos to You Choob. My username is "Chris Ryder", search and ye shall find. I do confess they are not exactly thrill per minute exciting viewing, but if you are a bike fixing nerd they show the detail of what I have done.
A summary of the tech spec:
Started with a stock standard KLE500 (Many thanks to Scott (Stinkwheel) for the bike)
Removed cosmetics as you can see
Fitted GPZ500S fuel tank
Everything else is handmade by me, except for the welding to form the angled tailpiece, a mate did that. I did the non-structural welding.
Caged headlamp from Spotarama, I shipped it back from Aus when I moved
I made a removable luggage rack so I can carry camping gear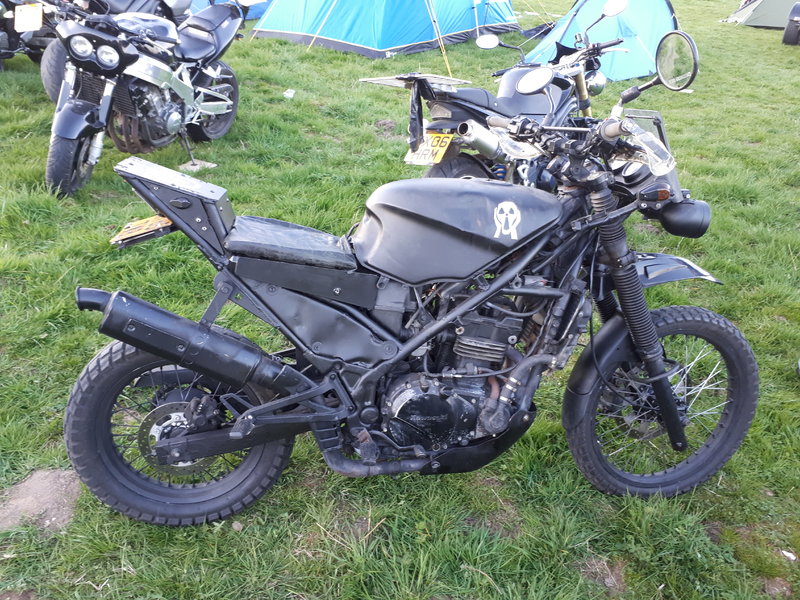 that looks proper rubbish.

well done mate!
Admin




Posts

: 279


Join date

: 2017-07-05



nicely depurpled, looking good
Underneath the number plate is an extending mudflap. It operates on a drawer slide. The intention being that when roads are wet I can extend this to stop road spray soaking my back and trickling down the back of my collar.
However, the drawer slide doesn't seem to like operating on the horizontal, and doesn't seem to like being shaken about on the road. All the ball bearings have fallen out of their cage, so I am now looking for a version 2.0 option.
some sort of tubes sliding inside inside each other with a R clip fixing arrangement ?
some sort of tubes sliding inside inside each other with a R clip fixing arrangement ?

Yeah, am thinking of a variation of that, however, I'm trying to resist the temptation of making it from mild steel as it will be heavy(though its cheap, easy, and I have a mild steel MIG).

The advantage of a drawer runner is that the better quality ones offer "full extension", and i had a section of this one hidden in the tailpiece. So it was very neat when hidden away but very long when extended, and thus long enough to be effective. The "telescopic tube" option won't offer as much extension for the space I have to mount it in.
The extension is in the wrong plane on that scissor jack. I need it to extend along the line of the number plate.
Have a look at this vid which I made wiv ma phone. it shows it in use.
https://www.youtube.com/watch?v=Ql2T_Fc3pkQ
Happy rider (who happened to be off his nut when photo was taken but you cannot see his eyeballs)
windscreen ornament
with luggage on temporary rack on way to rally


Similar topics
---
Permissions in this forum:
You
cannot
reply to topics in this forum