Figured I'd best put this on here for all you non facebook types! (except hoon the dirty lurker)
By some miracle I'm turning 40 so we're having a gathering at ours on the Saturday, those coming a long way are welcome to come Friday (just let us know so we'll be in!).
Loads of food just like our housewarming (even the fattest of bastards won't go hungry), a big fire , fireworks, some half assed attempt at a game or two and a ride out Saturday daytime for lunch at a local biker cafe.
Please see that all gifts are of the large and expensive variety.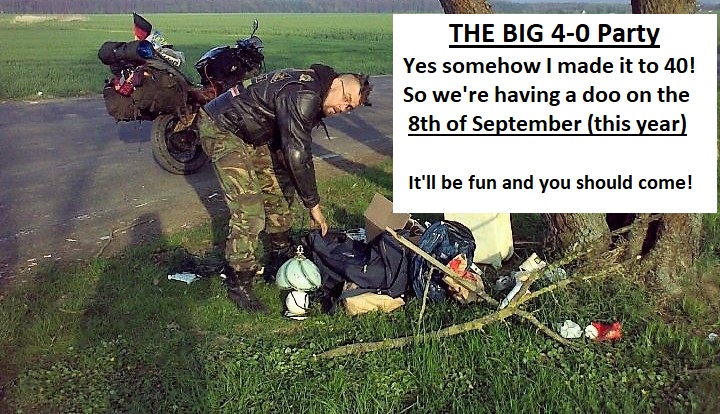 Last edited by twofiddy on Wed Jun 27, 2018 10:08 pm; edited 1 time in total



Posts

: 96


Join date

: 2017-07-14



Large and expensive? What do you want my ex for?



Posts

: 143


Join date

: 2017-07-04



I'll be there (hopefully Fri)- I'll need it after 7 weeks of school holidays!

I'm sure I'll find something large in a layby on the way up- the expensive part will be for you getting rid of it when the novelty wears off?
Beer pong- but started a bit earlier than last time, don't think I could focus on the cups.



Posts

: 326


Join date

: 2017-07-04



I might send down a little something, up to you if you want to share..
What do you have planned for your midlife crisis?



Posts

: 5


Join date

: 2017-07-22




---
Permissions in this forum:
You
cannot
reply to topics in this forum