So Nate and I thought we'd surprise so the boys down in Finmere with a visit, and popped in to see the end of the world on Saturday (just had to drive through the car boot first). There were about 35 people there at the final frontier in buckinghamshite, but a fair few cool vehicles, general rubbish, good bands, great high octaine cider.
Highlight for me for sure was the 45 mile ride out with cars and bikes which was really well orchestrated by Pete (with lamanted maps included). I concur with Cheers Gary that the fire dancing show, as always, was "shit." However all things considered it was pretty well laid on and, if nothing else, was something completely different and entertainingly novel.
Few photos here for ya. I'm sure there will be better official photos later, but some good keepers here.
Burnout begins...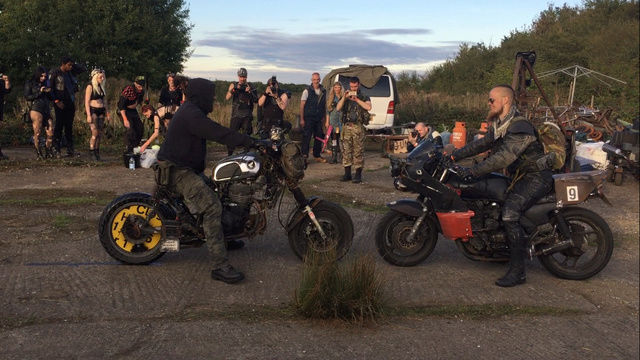 ... but sadly never ended for Nate...
Battle of the codpieces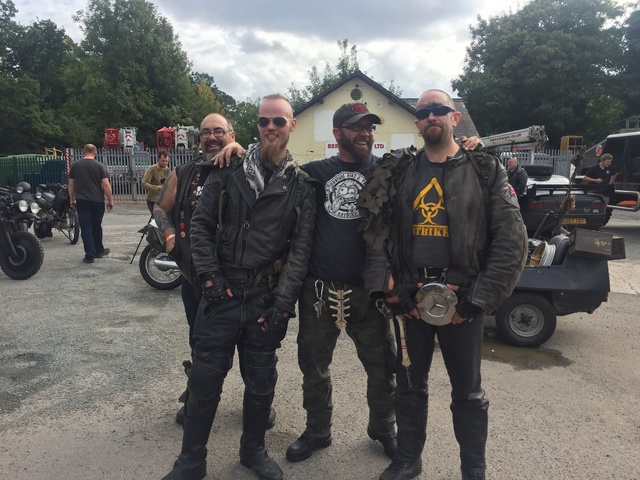 "Tank boys"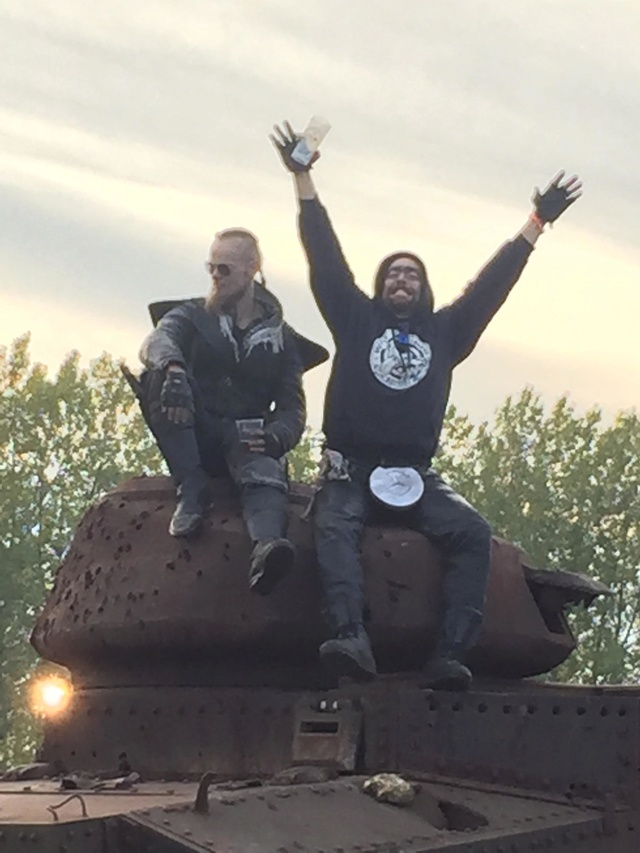 Some crazy fucker who wouldn't leave us alone in the dance tent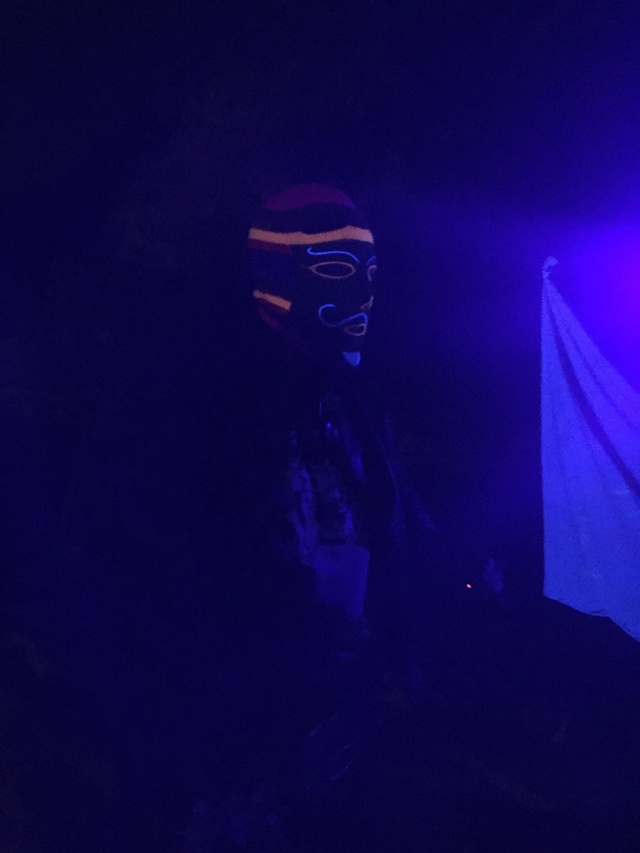 VJ's "zero fucks given" camping arrangement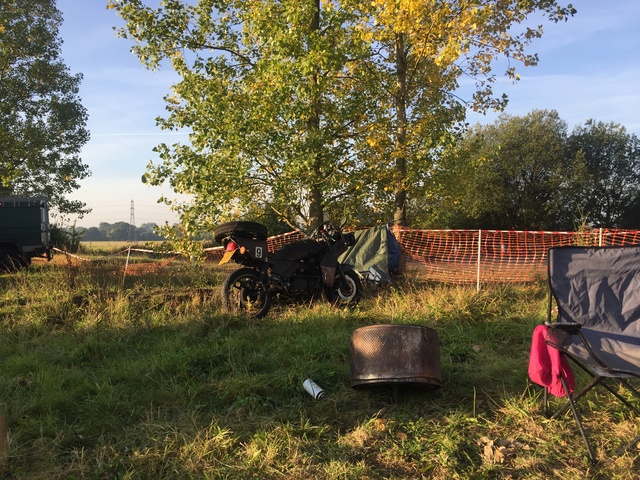 My "zero fucks given" costume
And this fucking bastard of a bike... Boiled radiator to holy hell during the burnout gone wrong so we put some filthy water in it this morning, and didn't it get us home all the way with no problems. Meanwhile I tuck my Honda in lovingly every night and it continues to vomit out the fuel tap vacuum pipe  just to fuck me off!
Anyway guys cheers for the giggles and sorting us out with some food and a few cans. Mr Hoon - thanks for giving me a spin on your outfit even though I almost put it in the back of a van!
Looking forward to seeing you all (and more) soon for Hoon's Halloween do and my (solo) trip to the Ace Cafe!!



Posts

: 93


Join date

: 2017-07-04



a post-apocalyptic english coutry pub.

how quaint.
Admin




Posts

: 279


Join date

: 2017-07-05



Crackin pics Leigh, nice one- 'twas a good time.



Posts

: 506


Join date

: 2017-07-04



Thanks Leigh for a nice writeup and some good photos.
I'm Gutted that I missed it. I had spent 2 months in the garage til 2am getting the KLE ready. The bike was packed up on Weds night and my leathers laid out so I could quickly get on the road after work, only for my Mum to have a stroke on Thursday morning and get rushed to hospital.
She's fine now. It's been a worrying 3 days when I thought this might be the end of her. She had neurosurgery, it went well, she woke up and within a few hours was able to boss my Dad and I with lists of jobs to do at home, she just needs 2 more weeks in hospital followed by 6 months R&R.

So: questions to all of you, not just Leigh:

Would you go to another one of these?

Do you think they'll put another on?

Was it well organised?

I have it on good authority that there will be a UK Wasteland Weekend in 2018. Suddenly there's loads of post-apoc events in the UK....well, two





Posts

: 193


Join date

: 2017-07-26



Ace pics Leigh, nice one.

Chris, glad to hear some positive news mate, with regards to the doo, fuck yes.

There will deffo be another after speaking to the organisers, it was very well organised for a first one tbh, there was sufficient toilets, beer (at a sensible price) and entertainment laid on and a suitably relaxed atmosphere. Also they had a blacksmith, a mig welder, grinders and hand tools avaliable which certainly saved me a lot of hassle when my exhaust system dissasembled itself on the ride out to the cafe.

Cheers
John



Posts

: 228


Join date

: 2017-07-04



how did i miss this earlier?
Admin




Posts

: 279


Join date

: 2017-07-05






Posts

: 193


Join date

: 2017-07-26



june_whitfield wrote:how did i miss this earlier?
WTF, why is his worthy of comment and mine isn't??!?!



Posts

: 175


Join date

: 2017-07-14



Big Chris wrote:What bike is Nate on?
The 250 I built of of the scrap in my shed last year.



Posts

: 175


Join date

: 2017-07-14



"WTF, why is his worthy of comment and mine isn't??!?!"
'Cos mine is made from a fine piece of German engineering?
Although you do score points for the fact that it was a clip-on/ quick detach cod piece

I nearly went for a thong/ g-string type attachment method but was glad I decided against it 'cos one has to be comfortable in an apocalypse and that would have chafed when I sat down!



Posts

: 506


Join date

: 2017-07-04




---
Permissions in this forum:
You
cannot
reply to topics in this forum