Leigh?

Tanks to all who made this Aceoween doo one of my favorites, it went seamlessly without a single FAIL for me (if you don't count not putting out salad for the bbq).

Same again next year then.



Posts

: 506


Join date

: 2017-07-04



Admin




Posts

: 279


Join date

: 2017-07-05



I had a great time this weekend as well! Many thanks (as always) to Hoon for putting me/us up and showing us a great time. It was awesome to sit around the fire and have a few laughs. Highlight of the night for me was watching Drunk and Drunker race to put their beds together... I believe at one point there was a hammer, chisel, several nails, and an axe required to get Cheers Gary's cot upright.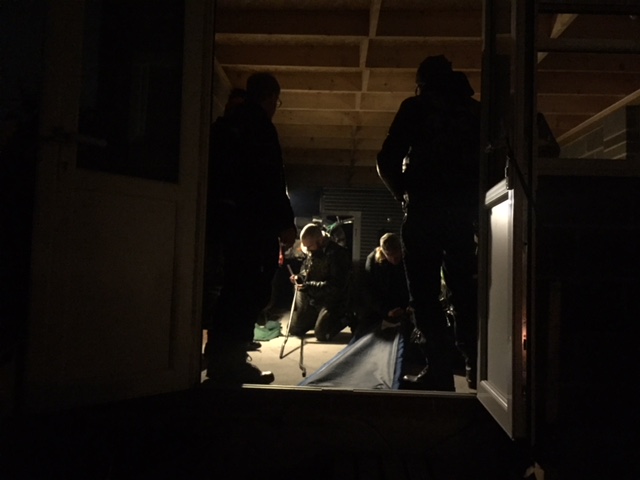 I'm only a bit disappointed that I didn't get any photos of the "spumpkins."
The ride out to High Beach was fantastic. Esox, I have no idea how you manage to ride that thing! Enjoyed being part of the pack, and (as Hoon said) even the traffic Gods smiled on us and it wasn't too bad getting to the Ace.
Took this shot of you boys. I think it turned out pretty good. Especially with that broad checking you all out.
Also grabbed this pic. What an interesting guy next to an interesting bike.
In any event, thanks boys for setting my expectations reasonably low for the Ace itself (still got myself a sticker though) and keeping me in such great company. It was a chilly ride home (albeit pretty uneventful) but I had a blast all around.
Also, for those of you who weren't there (tisk tisk), if you would like one of these silly little patches let me know and I'll post one to you. I made them mostly to annoy and irritate Nate, my favorite past time. Please help me piss him off as much as possible.



Posts

: 93


Join date

: 2017-07-04



love the Poses of Nate patch! Well done Leigh.



Posts

: 102


Join date

: 2017-07-04



we want a "Poses of Nate" patch collector's series!
a different pose every blue moon!
Admin




Posts

: 279


Join date

: 2017-07-05



sounds like everyone had a most enjoyable time but actually putting salad out for the bbq would have been the fail. bbqíng is about the incineration of freshly slaughtered flesh of the beast, not crunchy green vegetables



Posts

: 115


Join date

: 2017-07-26


Age

: 54


Location

: orstralier






Posts

: 115


Join date

: 2017-07-26


Age

: 54


Location

: orstralier



Apologies for making making it AGAIN... But I only 34p in the bank LOL




Posts

: 46


Join date

: 2017-08-01



Nice looking doo and sorry i missed it, stupid ankle is recovering post op so not allowed to do anything atm. Anyway gave me the time to finally register and say hi, loving the patches too. nicely done.



Posts

: 3


Join date

: 2017-10-31



Nice one Leigh.
The impromptue cotbed race was excellent, there was a matter of some cheating in the form of sabotage but that was negated when Gary realised he had also sabotaged himself by fitting two poles together wrongly that would then not come apart until I used a vice and large screwdriver to separate them.
Spumpkins? I don't recall.
That guy with dreads is Wizard, a sound chap who built that bike (and a few other interesting ones including a cool little pitbike) and has a lovely unrestored XL250 that he uses in the winter.
He used to be in the mcc I was in until the chairmans son who also suffered from 'small man syndrome' (like father like son) started on him at one of their shows after too many shandies and he threatened to defend himself with an axe which was nearby, this was not long after I left the club and was glad to get out when I did as it went the way of so many clubs when politics and bullshit took over.

He gave me the desiccated frog which now adorns the number board of my leg- snapping pitbike.

Hallo babySheep




Posts

: 506


Join date

: 2017-07-04




---
Permissions in this forum:
You
cannot
reply to topics in this forum