Whilst the bike is apart for some essential maintenance and substantial frame mods I've got the time to try out the other wheel on it. Being a Ford wheel hub fitting (actually a converted Volvo hub) it was always meant to take a standard wheel but due to the rush I had getting it on the road for the R&S I never actually tried the car wheel in it. Well to my surprise it fits and clears the frame just as intended. The photos show the shock removed and chocked up on some bricks so I can move the wheel through its full movement and check for clearance.
I've also had to remove the fuel tank from where it was simply because the bracket that held it was welded to the frame in a way that prevented the wheel from being removed. This also gives me the reason to fir the mustang tank to it which was never really intended but is reasonably quick and easy. Ultimatly I want to make a tank that fits in the space under the turbo so the top of the engine is totally exposed again.
I've no idea how it will perform on the car tyre other than noting that all the bikes on the darksiding website are heavier cruisers, and this aint never going to be a nimble machine.
Now I have to decide if I will make a better rear mudguard to go over it or lash up the lorry sign again.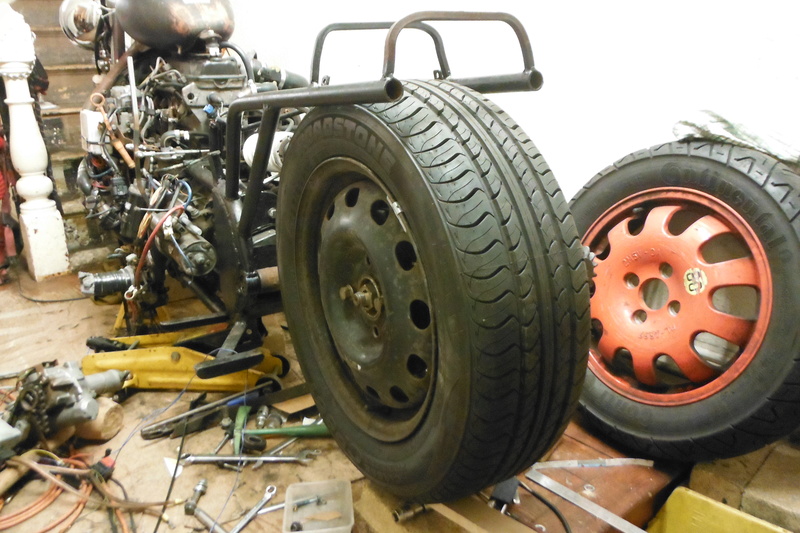 I'll be over on the Darkside website checking out tyre pressures for a while...
Awww and there I was hoping you'd taken to wearing some kind of terrible home made darth vader costume whilst out and about.

But I'll settle for lots of pics of the hub and bevel assembly as a close second.

Have you braced the frame?



Posts

: 192


Join date

: 2017-07-14



I vote for sorting the rear mudguard properly now to save hassle in the long term but use the lorry sign as part of the finished product maybe

As for tyre pressures, try it on the road at varying pressures until it feels right I'd say- unless there's someone on your forum with a similar weight bike then it'll be better to find out what works for you based on 'on the road' testing I reckon.
How does it compare weight-wise to the Triumph Rocket 3 btw, that's the only bike I can think of apart from Goldthings that might commonly use car tyres.



Posts

: 535


Join date

: 2017-07-04



Mongface wrote:How does it compare weight-wise to the Triumph Rocket 3 btw,
I weighed the engine, gearbox, transmission etc when I first put the chassis togeather and estimated the total dry build would be approx 300kg. However I don't have scales big enough for the whole bike but will one day take it to a weigh bridge just to know.
But knowing my luck it will be nearer 400kg

Now that looks gorgeous. What about the old wheel & tyre combo? Looks like a bike-tyre on a car wheel?



Posts

: 58


Join date

: 2017-07-05



Yea, it is.
It's a 16" rim and the spec for diameters overlap each other. OK so the rim lip is bigger and the bead hump fatter but it is a good fit.
It's an alloy space saver rim from a Ford ST170 if you were wondering.
This does not work for 15" and 17" rims which are dangerously mismatched as they have different diameters so are either too tight or too loose. But this is my opinion and you're best looking up specs yourself

Will do, when the need arises... but good to know, that at least some dimensions match!



Posts

: 58


Join date

: 2017-07-05



Once again. Deviating from the maufacturers exact specification without exception results in Instant flaming death, just like welding fuel tanks.

Should've seen the fuss when I suggested fitting a 60 section front tyre instead of a 70 section on one of the VFR owners forums. Apparently it would cause unhandleable levels of cornering instability. I didn't dare mention I'd also dropped the forks an inch through the yokes.

I'm almost tempted to leave the standard safety mileage/speedmaster tyre combination on this hot enfield I'm building. Just to be a dick. I suspect a safety mileage rear has a lot in common with darksiding, the users of them know that the tread never leaves the road and therefore has an enormous contact patch. The nay-sayers have invariably never tried it.

I keep meaning to fit a car tyre to one of my spare VFR rear wheels and turn up with it at a rally or something but I'm really not sure about fitment in terms of the bead/rim compatability. Your earlier comment confirms my suspicions.



Posts

: 15


Join date

: 2017-09-21



Yea, There was an outcry when I posted some pictures replacing my angle grinder flex cable on Facebook.
You see I used a 3 core earthed cable on a double insulated appliance the original cable was fucked and had already been mended with tape over bare copper in a few places. I simply terminated the unused earthing wire to a handy screw in inside the casing. Which according to some crash-trained 'fitters' will kill me to death because there will be an electrocution risk if the cable is damaged because their training told them so. I asked how was this so as the unused earth cable was connected to the electrical earth supply via the regulation 13A plug and was firmly told that it would all become 'Live' and kill me if this earth cable ever touched the L or N wires and get this, because their trainer made a point of telling them to only ever use twin flex when it was installed originally. After I stopped replying I got a 'Well if you electrocute your self then it's your own fault but you have to tell anyone else that uses it...." 

Yea, the diameters of the rims are all different which I was very surprised to find out. There is a nominal diameter and then the allowed machining deviation either side of it. Years ago I drove to the next town as Newport does not have a refrence section in their library so I could access the Bristish standards and looked up the info from there which is where I found out that on the 16" rims there was overlap in the overlapping deviation when comparing car and m/c rims.
From a practical point of view I've measured several rims by wrapping mig wire around them and marking with a chizel dent and there is (from memory) about 3-4 mm difference in the 17" rims with the car rims being bigger. Hence your beading wire in the tyre is expected to stretch by this much which apart from being high tensile wire, ie unstretchable, puts unbelievable stress on the rubber when putting a bike tyre on a car rim. I've tried it and binned the tyre after that failed experiment. A car tyre on a 17" bike rim would be slightly loose but when I fitted on to a bandit wheel it popped on the bead snugly, but was virtually unridable and I only did it to take on a spare wheel to the Ace for a most epic burnout. This is of course only just over 1mm diameter difference which would be feasible to machine off if you could find a big enough lathe.

---
Permissions in this forum:
You
cannot
reply to topics in this forum