I was not expecting to be doing this at 3AM in the bastard morning.
Ran out of fuel 2 miles from home, luckly it was just as I was rolling up the slip road off the motorway. So a taxi trip to the nearest open garage to get a gallon of diesel and then back to the bike, which was a second minimum fare to take me back to the bike but the taxi waited for me and the queue was long so I tipped well for that. Then after it didn't bleed the system whilst cranking before the battery went flat it was a 3rd taxi trip home to collect tools and jump leads so I could ride my other bike out and get it started properly. This worked and I rode the first bike home. Then it was a 4th taxi trip back out to the second bike to ride that one back home.
So that was 4 taxi trips at gone 2AM and another spare fuel can at garage forecourt prices. Still it was way quicker than walking about 8 miles and more convenient than calling a recovery truck.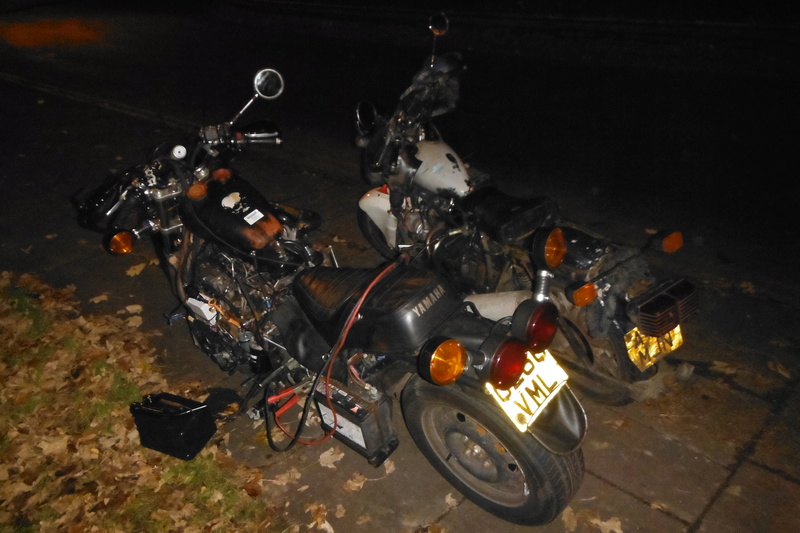 Posts

: 89


Join date

: 2017-07-04



I gots the recovery.
Just that I'd rather not use it up for a gallon of fuel within walking distance of home. And as it was 3AM aaannnd I was in full thermals and gear I'd rather no go walking anywhere at all fo the sake of a fiver.

So your fuel economy is a bit shoddy, or is it your math? ;-)



Posts

: 102


Join date

: 2017-07-04



Perhaps you ought to construct a fuel gauge?

or some sort of reserve arrangement?
Admin




Posts

: 279


Join date

: 2017-07-05



Yea, I hear fuel gauges and reserve facilitry are all the rage.

The other thing is I now know I can't prime the engine simply by cranking it.
Just curious, did you fit flashy things?



Posts

: 506


Join date

: 2017-07-04





Similar topics
---
Permissions in this forum:
You
cannot
reply to topics in this forum